Description
This is a single presentation recording from the live Focus On: Breathing event held on February 11th 2022
The Focus On series is an in-depth look at topics relevant to singing teachers. Delivered by industry experts and experienced pedagogues. 
Also available as part of a bundle package with the whole day of recordings.
Please read our Digital Purchase Policy before buying.
---
IN THIS VIDEO
The "Breathe, Sing, Move!" program, first held at Breathe Well Physio in Canada, combines traditional group singing lessons with physiotherapy to improve symptoms of lung disease. Mounting evidence suggests people with lung diseases (such as asthma and COPD) can benefit from breath pattern retraining. Furthermore, patients with lung disease often have dysphonia due to poor airflow. The techniques associated with breathing for singing closely mirror those taught by physiotherapists. Although these benefits may not manifest themselves in pulmonary function tests, recipients of breath retraining often report a reduction of breathlessness and an overall quality of life enhancement. Breath retraining and singing may also reduce voice handicap. In this presentation, we will explore the mounting research in support of the use of singing for the relief of breathlessness and review some of the methods used in the "Breathe, Sing, Move!" program. 
PRESENTER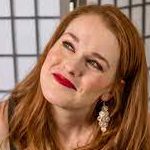 Rachel (Brager) Goldenberg (Soprano) was born and raised in Calgary, Canada. In 2012, she received her Doctor of Musical Arts in vocal pedagogy from Shenandoah University where she was the recipient of the Dean's Graduate Scholar Award for "exceptional aptitude for research and scholarship." She also holds undergraduate and graduate degrees in voice performance and pedagogy from the Westminster Choir College in Princeton, New Jersey. A winner of numerous awards and scholarships, she has sung with The Banff Summer Arts Festival, Opera Nuova, Westminster Opera Theatre, Cowtown Opera and Chesapeake Concert Opera. As a chorister, she has sung with many of the US' top orchestras including the New York Philharmonic under such conductors as Sir Neville Mariner, Sir Colin Davis, and Lorin Maazel. She was the regional runner up in the 2012 in the Intermountain NATS Artist Awards (NATSAA) and a national semi-finalist in the 2014 competition.
Dr. Goldenberg has been privileged to study with some of the major authorities on voice of our time including Scott McCoy, Marvin Keenze, Lindsey Christiansen, Jeanette LoVetri, Wendy LeBorgne, Katherine Green and Johan Sundberg. Additionally, she was selected to participate in the prestigious 2011 NATS Intern program at the University of Wisconsin: Eau Claire. She has adjudicated at several local festivals and has been in demand as a guest lecturer, particularly on subjects relating to voice science, vocal health and vocal pedagogy.
Dr. Goldenberg's doctoral dissertation focused on the use of singing lessons as an adjunct to airway clearance technique for Cystic Fibrosis. She has presented her dissertation research and continuing research in the use of singing for respiratory ailments across the United States, Canada and Europe. Her article, "Singing for Respiratory Health: A Literature Review" was recently published in the peer-reviewed Journal of Voice. As an active and trained singing voice specialist, Dr. Goldenberg frequently assists injured singers, actors and other voice users referred to her from medical professionals and the voice community.
Dr. Goldenberg is the Voice Consultant at the Advanced Breathing Disorder Clinic, with a special interest in working with individuals with vocal health concerns.  She works closely with our physical therapy team to help integrate breathing patterns into voice expression for better control of voice and reduction of chronic cough.
Website: rachelbgoldenberg.com
---
DISCLAIMER
Please note that this video and the presenters involved do not provide medical advice. The content in this video and on this website is intended for informational purposes only. It is not a substitute for professional medical advice, diagnosis or treatment. Never ignore professional medical advice when seeking treatment because of something you have read, heard or watched on the basttraining.com Site. If you believe you have a medical emergency, immediately call your doctor or emergency service.