IN THIS VIDEO
Creator of The Vibrant Voice Technique, a series of exercises that uses external vibration (aka a vibrator) to help quickly and effectively enhance vocal resonance and reduce the muscle tension that can lead to vocal fatigue. David takes us through a few of these tension release exercises, explains the 'no go areas', demonstrates the exercises and explains anatomically what they are targeting.
---
ABOUT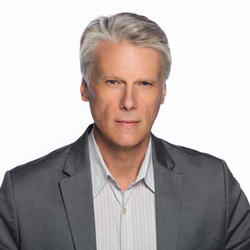 David Ley holds an MFA in performance from York University with a diploma in Voice Teaching. David has competed a two-year, 2200 hour training program in remedial massage and is registered massage therapist with a specific interest in vocal tension patterns. He is a Professor in the Drama Department at the University of Alberta where he teaches Voice and Speech, Dialects, and Acting. David has extensive experience in private practice teaching vocal skills to a wide array of professional voice users from schoolteachers to politicians and has taught many voice workshops both across Canada and abroad. He spent ten seasons as a Voice Coach at Canada's Stratford Festival and has been a regular instructor in Stratford's Birmingham Conservatory. He has done numerous feature newspaper interviews commenting on dialects and vocal performance and has been featured in two CBC documentaries on Canadian speech. Media outlets around the world have covered his work on the Vibrant Voice Technique including: the Toronto Star, the Globe and Mail, The Guardian UK, the Huffington Post, Metro News International, and many others. His "Three minutes to a Proper British Dialect" video has been seen over a million times on YouTube. David has 30 years of experience working as an actor in theatres across Canada and has acted in numerous film and television productions.
Website: vibrantvoicetechnique.com
---
DIGITAL PURCHASE POLICY
BAST Training is committed to ensuring satisfaction for all customers who purchase our products and as such we rely on our Digital Download Policy to help ensure this satisfaction.
Our Digital Download Policy is as follows:
All sales on Digital Download Products are final are Non-Refundable or Exchangeable
Choose wisely. Due to the high level of fraud with downloading music, MP3 downloads and digital products, our digital products are NOT returnable, exchangeable, or refundable.
If, however, you experience difficulty accessing or downloading your purchased product, then we will do everything to ensure you get the assistance necessary. Please email us for help.
---