IN THIS VIDEO
How science can help the singing teacher. Ryan will be reviewing the concepts of formants and harmonics in voice and how this knowledge can help you get your students to realise you are even more amazing than they already thought.
---
ABOUT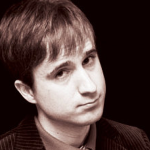 Ryan is a Canadian based singing teacher Ryan is also a multi-instrumentalist and producer. He has been studying with renown voice scientist, Dr Ingo Titze, in order to understand the science behind singing. Without a doubt, this knowledge has helped him speed up his student's vocal and singing development. He loves nothing more than to share this knowledge with others.
Website: torontovoicelessons.com
---
DIGITAL PURCHASE POLICY
BAST Training is committed to ensuring satisfaction for all customers who purchase our products and as such we rely on our Digital Download Policy to help ensure this satisfaction.
Our Digital Download Policy is as follows:
All sales on Digital Download Products are final are Non-Refundable or Exchangeable
Choose wisely. Due to the high level of fraud with downloading music, MP3 downloads and digital products, our digital products are NOT returnable, exchangeable, or refundable.
If, however, you experience difficulty accessing or downloading your purchased product, then we will do everything to ensure you get the assistance necessary. Please email us for help.
---