IN THIS VIDEO
You you will be given a whistle stop tour of all things vocal massage. The webinar will cover:
• What is Vocal Massage?
• How can Vocal Massage change the sounds we make?
• Why do we need Vocal Massage?
• As a singing teacher, when do I recommend a student have a Vocal Massage?
• As a singing teacher, when should I be getting a Vocal Massage?
• How does posture and other daily activities affect the tension stored in and around the larynx?
---
ABOUT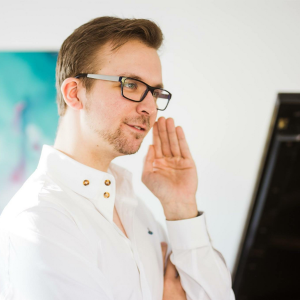 Stephen King trained at ArtsEd on the Musical Theatre BA(Hons) course but sustained a knee injury which interrupted his training. This inspired Stephen to teach, heal and maintain performers. Stephen is now an international vocal coach and vocal massage therapist using his masters level research to inform his work of freeing voices artistically and clinically. This is a new and exciting approach to voice training and vocal treatment which is only carried out by 2 other practitioners in the UK.In 2018, Stephen opened his clinic for vocal massage at No.1 Harley Street. His work here includes LLLT (Low Level Laser Therapy) to relax muscles and maximise the efficacy of treatment, Myofascial release and Laryngeal Manual Therapy.
After spending 3 years training in the Estill model, Stephen has since trained with Jacob Lieberman, Declan Costello, Jeanie LoVetri and Jenevora Williams. He has also been personally mentored by Meribeth Dayme in anatomy and energetic anatomy of the human biosphere.
Stephen has also directed and musically directed, as well as arranged and orchestrated and is a proficient sight reading pianist. Stephen is on the faculty at the Urdang Academy and Read College where he also is a manual therapist in both their treatment departments, bridging the gap between clinical treatment and performance.
He has also conducted research into the training of young adult voices, respiratory function and vocal registers.
Website: kingvocaldiagnostics.com
---
DIGITAL PURCHASE POLICY
BAST Training is committed to ensuring satisfaction for all customers who purchase our products and as such we rely on our Digital Download Policy to help ensure this satisfaction.
Our Digital Download Policy is as follows:
All sales on Digital Download Products are final are Non-Refundable or Exchangeable
Choose wisely. Due to the high level of fraud with downloading music, MP3 downloads and digital products, our digital products are NOT returnable, exchangeable, or refundable.
If, however, you experience difficulty accessing or downloading your purchased product, then we will do everything to ensure you get the assistance necessary. Please email us for help.
---