Description
with Kate Cubley
IN THE VIDEO
Crippled by allergies herself, singer and vocal coach, Kate Cubley, decided to use her MA to research the best way to avoid or reduce loss of work and singing time when allergies presented. In this webinar she shares her findings on the common causes in singers, how to manage the voice and advise singers when the allergies hit.
She will also explain Allergy 'Flashers' a handy mnemonic she's devised as a reminder tool for allergy management.
---
ABOUT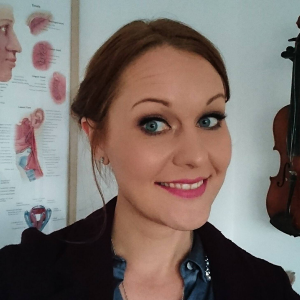 Kate Cubley is an advanced level Voice Coach and Singing Teacher working predominantly from her private studios in Cheshire and London. She is regularly asked to host voice workshops, pop-up choirs and speak at a variety of events across the UK for other voice teachers, professional singers and corporate clients. Kate has a particular interest in encouraging singing for fun, whilst incorporating her specialist knowledge in voice pedagogy, vocal health, body alignment, phonetics, emotion and performance skills.
Continually committed to her personal development through practical education and training, Kate is a qualified Level 7 coach and mentor regularly working with corporate clients, business start-ups and other voice teachers. She is a certified CoreSinging® Teacher, has attended Estill teacher Training Courses and a selection of Vocal Process Singing Teacher Retreats. She is an active member of the British Voice Association, AOTOS, The Musicians Union and The European Voice Teachers Association. Kate holds a BA(Hons) in English Language and Linguistics from The University of Sheffield and a Postgraduate Certificate in Applied Professional Practice, specialising in Vocal Pedagogy, from Cardiff Metropolitan University. Kate is presently continuing her MA study at The University of Wales Trinity Saint David through Voice Workshop.
Website: katecubleyvocalcoach.com
---
DIGITAL PURCHASE POLICY
BAST Training is committed to ensuring satisfaction for all customers who purchase our products and as such we rely on our Digital Download Policy to help ensure this satisfaction.
Our Digital Download Policy is as follows:
All sales on Digital Download Products are final are Non-Refundable or Exchangeable
Choose wisely. Due to the high level of fraud with downloading music, MP3 downloads and digital products, our digital products are NOT returnable, exchangeable, or refundable.
If, however, you experience difficulty accessing or downloading your purchased product, then we will do everything to ensure you get the assistance necessary. Please email us for help.
---