Description
IN THE VIDEO
Line Hilton reveals her findings from her MSc Performing Arts Medicine Research Project. In her project she set out to see if there were any similarities or differences between non-classical and classical trained female singers when their voice moved from one vocal register (chest/M1/lower register) to the next (head/M2/Upper register). She compared 10 professional non-classical singers with 10 professional classical  singers as they sang on and "AH" vowel through the vocal register transition on a major scale between D4 and D5. She measured F1,F2,F3, larynx height and vocal fold closed quotient. The results were some what surprising.
Line also discusses what's in the literature regarding vocal registers and register changes  to date, her methodology, the findings and her final conclusions.
---
ABOUT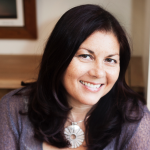 Be A Singing Teacher (BAST) founder and creator, Line Hilton MSc PAM, B.Mus (Jazz), Cl. Hyp, is passionate about facilitating the singer in fulfilling their potential, both technically and creatively. She draws on a diverse pool of training, qualifications, experiences and skills to help those who require it, whether as performers or teachers.
With Line's deep understanding of the vocal mechanism she is able to help a singer gain ease of control over their voice without losing their vocal identity. During her time as head of vocals at the Academy of Contemporary Music (Guildford, UK) Line worked with hundreds of developing contemporary artists. She created and produced a broad spectrum singing/vocal programme that progressed the singers from the diploma through to the degree course.
In her private practice, Line sees professional and semi professional artists, singers and voice users, helping them to better understand and cope with the demands of the job, how to care for their voice, mind and body in order to maintain the high standard health required to perform and sing at optimal levels. She is a BAPAM Educational Trainer, a guest lecturer and speaker (UCL, ACM, BIMM, Community Music, BBC, ViP, Vocal Health Education) and delivers workshops and masterclasses in the UK and Internationally.
Website: linehilton.com
---
DIGITAL PURCHASE POLICY
BAST Training is committed to ensuring satisfaction for all customers who purchase our products and as such we rely on our Digital Download Policy to help ensure this satisfaction.
Our Digital Download Policy is as follows:
All sales on Digital Download Products are final are Non-Refundable or Exchangeable
Choose wisely. Due to the high level of fraud with downloading music, MP3 downloads and digital products, our digital products are NOT returnable, exchangeable, or refundable.
If, however, you experience difficulty accessing or downloading your purchased product, then we will do everything to ensure you get the assistance necessary. Please email us for help.
---