This is a single presentation recording from the live Focus On: Performance Anxiety & Mindset event held on May 22nd, 2021
The Focus On series is an in-depth look at topics relevant to singing teachers. Delivered by industry experts and experienced pedagogues. 
Also available as part of a bundle package with the whole day of recordings.
Please read our Digital Purchase Policy before buying.
---
IN THIS VIDEO
This session gives voice users, performers and performing arts teachers a  theoretical and practical introduction into the vast topic of (Music) Performance Anxiety (MPA):
When nerves are more than "just stress": What is anxiety, and why do we develop MPA?
The different manifestations of anxiety: How feelings of fear and anxiety impact voice users and performers somatically, cognitively and behaviourally.
The neuroception of threat: Why understanding "fight, flight and freeze" is the first step to normalising our physiological responses and removing the stigma
How to help: The difference between"topdown"and"bottom up" approaches, and why there is no "one-size-fits-all-magic bullet"
The importance of professional boundaries: When a referral is advised.
Practical examples and explorations of safe strategies to help clients with MPA without crossing the boundary into therapy
PRESENTER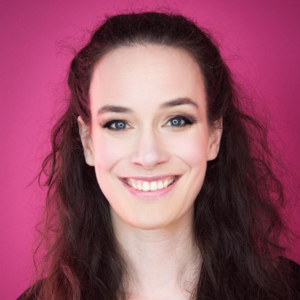 Petra Raspel Borzynski is a vocal, somatic and cognitive behavioural coach and accredited therapist with special expertise in helping (performing) artists and creatives to perform better and despite their fears.
She is currently one of the Solo Performance Specialists (Voice) for the University of the Highlands and Islands and works as a Cognitive Behavioural Coach for Google, helping performers and speakers all over the world sustain a (singing) career and find professional and personal fulfilment.
Her work in the field of singing, creativity, performance anxiety and performance psychology has been featured at conferences, in several publications and podcasts.
Petra holds a Diplom (German equivalent to a Masters Degree) from the Ruhr-Universität Bochum and also trained in Musical Theatre Performance at the Stage School Hamburg. After performing and touring all over Europe for the best of a decade, she began focusing exclusively on teaching and relocated to Scotland in 2006. Wanting to find answers related to peak performance and performers' mental health, she has since studied Psychology and Cognitive Behavioural Therapy (the University of the West of Scotland) and added further qualifications in Counselling (with a special interest in Crisis & Trauma) and Somatic Therapy to her skills. She continues to further her knowledge in third-wave CBT (e.g. Acceptance & Commitment Therapy, Mindfulness-Based Stress Reduction/Mindfulness- Based Cognitive Therapy).
Petra's vision is access to continuous mental health support for every performer, and that looking after our mental and emotional health becomes preventative instead of curative.

Website: singingsense.com