Description
IN THIS VIDEO
You know how some singers are so present when they perform? Well everyone has the capacity to do that!
In this video you'll learn concrete and powerful techniques you can share with your students to bring them into full presence as they perform.
Elissa will discuss how to help your students:
– Let go of worrying about their nerves
– Lean out of the monitoring left brain, and into the present right brain
– Perform with more ease, rather than trying to make everything happen
---
ABOUT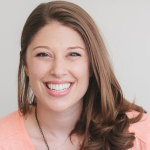 Elissa Weinzimmer is a voice and presence coach, and the founder of Voice Body Connection. She works with performers, public speakers, and voice teachers to help them to bust through vocal, physical, and mental blocks so they can communicate with more presence and ease (and teach others to do the same!). Elissa is the creator of How Your Voice Works, the online course that dives deeply into the fascinating anatomy and mechanics of the human voice. She earned an MFA in Theatre Voice Pedagogy from the University of Alberta and a BA from USC, is the Founding Official Instructor of Vibrant Voice Technique, and is certified in Fitzmaurice Voicework® and Hatha yoga.
Website: voicebodyconnection.com
---
DIGITAL PURCHASE POLICY
BAST Training is committed to ensuring satisfaction for all customers who purchase our products and as such we rely on our Digital Download Policy to help ensure this satisfaction.
Our Digital Download Policy is as follows:
All sales on Digital Download Products are final are Non-Refundable or Exchangeable
Choose wisely. Due to the high level of fraud with downloading music, MP3 downloads and digital products, our digital products are NOT returnable, exchangeable, or refundable.
If, however, you experience difficulty accessing or downloading your purchased product, then we will do everything to ensure you get the assistance necessary. Please email us for help.
---