Learn from some of contemporary singing's leading vocal pedagogues by grabbing yourself a copy of So You Want to Sing CCM.
"Throughout much of the twentieth century, any musical style that fell outside of the classical European canon was considered to be inferior." So writes Matthew Hoch in So You Want to Sing CCM, a book that celebrates contemporary singing and explores how times – and attitudes – have changed.
Thanks to advancements in vocal science, and the efforts of teachers who fought for contemporary singing to be recognised as a legitimate vocal style, 'non-classical' genres now have a more respected identity.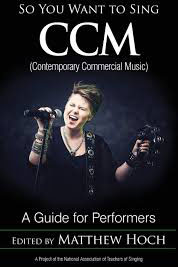 They also have their own acronym: CCM, otherwise known as Contemporary Commercial Music. This term was coined by Jeannette LoVetri, one of the leading pedagogues to feature in So You Want to Sing CCM, published by the National Association of Teachers of Singing (NATS).
What is NATS? 
NATS is the world's biggest professional singing teacher organisation and strives to "advance excellence in singing through teaching, performance, scholarship and research". It hosts events and publishes the popular resource Journal of Singing and has members all over the world.
NATS has also published 20 different So You Want To Sing titles, covering genres such as blues, folk and gospel (see a full list at the end of this article).
In a nutshell,

So You Want to Sing CCM

is…
A thoroughly enjoyable read that explores the emergence of contemporary vocal genres and celebrates 'non-classical' singing as a respected musical style. 
This book is for you…
If you're a classical teacher who wants to learn about contemporary singing. 
So You Want to Sing CCM offers an insight into the history of contemporary singing and its development within a predominantly classical territory. 
If you seek the experiences of other teachers and their involvement within the development of contemporary singing. 
The book includes interviews with pedagogues who pioneered the CCM genre (just pardon the cheeky name drops). I particularly enjoyed the interviews with Robert Edwin, Lisa Popeil, David Sabella and Mary Saunders-Barton, all of whom share interesting approaches and vocalises that I cannot wait to try out in my studio. 
(Side note: many of the vocal coaches in the book talk about turning to virtual singing lessons as a 'last resort' and only if they have previously worked with a singer in-person. I wonder if the pandemic has altered their opinions on virtual learning.)
The book covers
A brief history of the emergence of contemporary singing (author

Matthew Hoch

).

An introduction to six trademarked methodologies – Estill, Speech Level Singing, Somatic Voicework, Voiceworks, Complete Vocal Technique and Vocal Power Method.

A discussion by

Matthew Edwards

 

(one of my personal favourites) on the differences between contemporary singing and Musical Theatre singing.

A short insight into vocal production, including the source, vibrator, resonators and articulators (author

Scott McCoy

).

A discussion on vocal health by

Dr Wendy LeBorgne

.

An insight into microphone technique and audio enhancing technology (author Matthew Edwards).

Conversations with 12 vocal pedagogues – Katie Agresta, Irene Bartlett, Robert Edwin, Elizabeth Howard, Joan Lader, Jeannette LoVetri, Mark Meylan, Lisa Popeil, David Sabella, Catherine Sadolin, Mary Saunders-Barton and Daniel Zangger Borch. 

A chapter on Speech Level Singing (SLS) and its role in developing contemporary singing styles (author

Darren Wicks

).

A discussion on the prominence of contemporary singing in the 21st century (author Matthew Edwards).
My verdict
The three chapters written by Matthew Edwards are worth the purchase price alone (even the one about audio technology and microphone technique, which I will need to revisit as the subject matter always reminds me of those dreaded afternoon physics classes). 
Edwards wholly satisfies my inner MT and history geek; his informed chapters come from a place of real passion and interest.
I didn't come away from this book with a further understanding of how to sing contemporary commercial sub-genres. If you want a breakdown of the stylistic requirements of different contemporary genres such as country, blues or rock, then this isn't the book for you (although I assume other titles in the 'So You Want to Sing' series delve deeper into the specifics of the style).
However, the book did give me a greater understanding of the context of CCM and some new ideas that I will implement into my teaching. 
Crucially, So You Want to Sing CCM is a celebration of contemporary singing, and what's not to love about that?
Other titles in the 

'So You Want to Sing' 

series 
So You Want to Sing Music Theatre by Karen S Hall
So You Want to Sing Rock 'n' Roll by Matthew Edwards
So You Want to Sing Jazz by Jan Shapiro
So You Want to Sing Country by Kelly K. Garner
So You Want to Sing Gospel by Trineice Robinson-Martin
So You Want to Sing Sacred Music edited by Matthew Hoch
So You Want to Sing Folk Music by Valerie Mindel
So You Want to Sing Barbershop by Diane M Clark & Billy J Biffle
So You Want to Sing A Cappella by Deke Sharon
So You Want to Sing Light Opera by Linda Lister
So You Want to Sing for a Lifetime by Brenda Smith
So You Want to Sing the Blues by Eli Yamin
So You Want to Sing Chamber Music by Susan Hochmiller 
So You Want to Sing Early Music by Martha Elliott 
So You Want to Sing Music by Women by Matthew Hoch and Linda Lister
So You Want to Sing World Music edited by Matthew Hoch 
So You Want to Sing Spirituals by Randye Jones
So You Want to Sing with Awareness edited by Matthew Hoch
So You Want to Sing Cabaret by David Sabella and Sue Matsuki 
Join the conversation about great singing books on the BAST Trainers Facebook group.