Publishing a book helped vocal coach Becky Gilhespie boost her professional profile and expand her business. Read on to find out how and why she did it.
For many years Becky Gilhespie felt uncomfortable in her own skin, especially – and paradoxically – when she was doing the thing that she loved most – singing.
No matter how hard she worked, and how technically proficient she became, those feelings of inadequacy just wouldn't budge.
So great was her performance anxiety that it influenced her career decisions (Becky chose teaching over gigging) and led to much soul-searching.
Becky's quest to understand more about the causes of her self-doubt provided the foundations for her book: Singing for the self-conscious: A practical step program to help overcome mental hurdles when singing and performing.
It's an easy-to-read guide that covers mindset, goal-setting, vocal exercises and improvisation. The book encourages readers to accept that we are all 'perfectly imperfect' and that these imperfections make us unique and special (and more interesting performers).
Since publishing the book, US-born Becky, who now lives in rural splendour in Australia, has been contacted by singers from around the world who have shared their own battles with performance anxiety – and thanked her for the useful advice.
From a professional perspective, becoming an author has helped Becky grow her teaching business and reach out to a new audience. She spoke to Bronwyn Bidwell.
Why did you decide to write a book?
The idea started brewing in my head about a decade ago. I didn't necessarily know I wanted to write a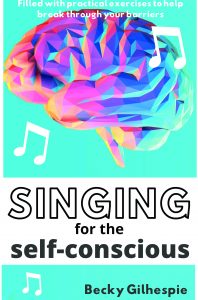 book, but I did want to explore why some people find it so easy to sing and perform and other people (me being one of them) struggle.
In my case, I had really worked on my voice, but – despite having all this training and technique – I still had these blocks; I knew that there was something deeper going on. I was very uncomfortable in my own skin. I was trying to be a singer in this horrible vacuum of noise from my own worrying thoughts.
In the book, I write about how performance anxiety can alter a person's life path. When I was younger, I felt so uncomfortable [performing live], that I didn't go down the route of being a singer. I taught singing for many years and then took a different path [and worked as a chef].
When I came back to teaching, I had this inspiration. I was on an aeroplane and thought 'I'm just going to write down a few thoughts' and that's how it started. The book almost wrote itself. The actual process of writing and publishing it on Amazon took about six months.
What advice would you give a singing teacher who wants to publish a book?
Go with an idea that you believe in. Explore a question that you want an answer to or a problem that you want to solve.
You might think 'I couldn't write a book', but you don't need a PhD, all you need is a good connection with your readers. It's easy to get hung up on making everything perfect right from the get-go. Just get started, and it will develop from there.
Has writing the book helped your teaching?
Totally. I use the step system that I outline in the book all the time. Instead of just teaching a student technique, I can now help them look at any underlying negative beliefs.
What would you say to a teacher who feels comfortable covering the technical stuff, but is reluctant to delve into some of these other issues?
We're not therapists – I understand that. But exploring some of these issues can bring another aspect to the work we do as singing teachers. Coaching is often just about posing questions. You're not telling the student what to think or say, you're just asking them questions to kickstart the thought process.
Do you find common threads in the negative thought patterns that people have?
Yes. People often say: 'I'm not good enough' or 'If I make a mistake, I'll be rejected'. Sometimes these thoughts are linked to something that happened in childhood or early in their performing career. There are many hidden layers that people don't explore.
The first step is to uncover these thoughts and to understand them. Then we can work on ways to change that negative programming, which is quite exciting.
How can a teacher help a singer find their authentic self?
Encourage them to get into the nitty-gritty of their values, influences and experiences. (I cover this in the first chapter of my book.) Once they have that self-awareness, they can go forward.
It's interesting because many singers step into the industry in their early 20s and not many people at that age have found themselves. Someone said to me the other day that some singers don't want to change because they're scared of losing their identity and I can understand that. For example, one of my students said he couldn't write good songs unless he felt depressed.
Tell us more about your teaching practice?
I live in Australia and – thanks to technology – work with singers in the UK, the US, Brazil and Australia. Every time zone has a little place in the diary and every day is a whistle-stop tour of the globe.
As well as doing one-to-one online lessons, I do a group daily workout routine online. We work on the voice for 20 minutes and mindset for 10 minutes, so it's a voice gym and a mind gym. The idea is to get it done, and then go about your day.
I've also put together A Singing for the self-conscious mini online course – and have another two in the pipeline.
What's next for you?
I want to write another book, a how-to to help singers when they record in a studio. I feel excited about the future. In the past, people have said to me that I was a little bit childlike, but now that I've reached a certain age and have had kids, I feel myself stepping up.
Website: beckygilhespie.com