The world's leading voice experts will all be in one place next month – online at the Virtual Voice Conference. Here's what you need to know.
The Virtual Voice Conference is brought to you by the good folk at Vocology in Practice (ViP). It is a chance for voice geeks and singing teachers to get the latest on pedagogy, voice research and artist development, and to network with their peers.
Running from Friday, July 10, to Sunday, July 12, it will feature talks, workshops and networking events.
Confirmed speakers include:
Read on for more about the event and special free workshops and discounts for BAST members.
Going virtual
Originally ViP planned to hold two in-person conferences this year, one in the US and one in Norway. But when the pandemic hit, it pivoted to an online format instead. Gemma Sugrue, Virtual Voice Conference Co-ordinator, says going virtual had one significant upside – access to an even bigger field of great speakers.
"Most people's diaries are more open than usual due to lockdown," she says. "And as it is an online event, we didn't have to deal with travel logistics. This meant we had our pick of some of the world's greatest thought leaders in the field of voice.
"We tried our best to keep the selection of speakers as wide-ranging as possible so teachers can experience a variety of viewpoints and disciplines. We have included experts in voice science, vocal health, artist development, business, pedagogy and holistic approaches."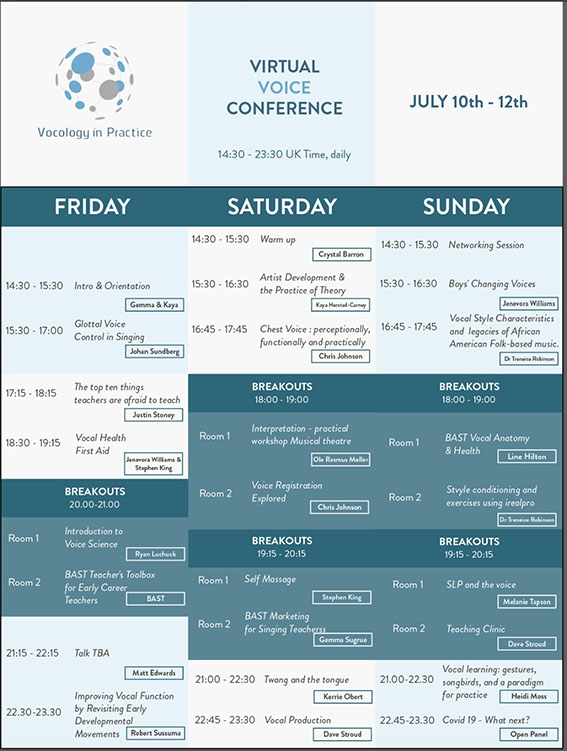 Connecting with the voice community
Sugrue hopes the conference can bring the voice community together, after a difficult time. "There are drawbacks to being cooped up at home due to the lockdown restrictions," she says.
"But we also see this moment in time as an opportunity to hone our craft as voice professionals and to connect and engage in meaningful conversations with fellow voice enthusiasts.
"We're hoping the Virtual Voice Conference will fulfil those needs for our global community. We've also made the ticket price extremely affordable, considering the financial constraints many may be under."
Networking
Conference guests will also get the chance to build relationships with other voice professionals, says Sugrue. "We have conference guides who will meet up with attendees (digitally, of course) to help them choose their breakout sessions and ask any other questions," she says. "We'll also be running networking specific sessions in smaller groups and inviting everyone to chat groups on Slack."
In partnership with BAST – free workshops
Yes, BAST has a role in the Virtual Voice Conference. We are proud to be presenting three workshops:
Marketing for Singing Teachers with Gemma Sugrue on Friday, July 10.
Teacher's Toolbox (ideal for beginners) with Line Hilton on Friday, July 10.
Vocal Anatomy and Health with Line Hilton on Sunday, July 12.
These workshops are free to all BAST members. Register for the BAST workshops here.
Discount for BAST members
If BAST members wish to upgrade to a three-day conference ticket, they can enjoy a £50 discount. Just use the code: BAST50 when you select Non-ViP member ticket.
Register for the conference here.