Three choir directors reveal the challenges and rewards of taking rehearsals and performances online during lockdown.
The Covid-19 lockdown left choir leaders facing a stark choice: mothball their singing groups for the foreseeable future or embrace the virtual world.
Like many of their peers, Sophie Garner, Beccy Hurrell and Juliet Russell opted for the latter and moved their choir rehearsals to the online platform Zoom. Here's what the process taught them professionally and personally.
Before Covid-19, Sophie ran five choirs and gave singing lessons. She currently leads three online choirs and provides one-to-one singing lessons online.
"I vowed I would never teach online," Sophie says. "But when it looked like I was going to lose all my work overnight, I just had to throw myself into it."
In lockdown Sophie has kept three choirs going. These are: a community choir, a choir for people with brain injuries supported by the charity Headway, and a choir for parents of children with cerebral palsy.
Sessions
Conscious that many of her singers savour the social element of singing, Sophie starts sessions by checking in with each member and asking how they're feeling. To ensure sessions keep moving, she also makes it clear that there will be time at the end to chat.
When it's time, post warm up, to sing Sophie mutes everyone and members then sing along with her and a backing track (lyrics are sent out in advance of a session, so there's no faffing with whiteboard screens on Zoom).
Initially some singers were disappointed to learn that due to latency they couldn't hear the whole choir singing live together. "I saw some people's faces drop when I first explained it," Sophie says. "But that's just how it is, we have to work with the technology we have. Most people have adjusted."
Point of interest
As time has gone on, the issue of not being able to hear everyone sing together has prompted varying responses from singers. Community choir members tend to shut themselves off in a room away from their husband and/or family, so no one can hear (or disturb) them when they sing.
The parents of children with cerebral palsy do something very different. They often get other family members – or the whole family – to join in and sing or accompany them on an instrument.
"These parents are facing tough times as they are caring full-time for children in the high-risk category," Sophie says. "It's very emotional when they sing with their families."
Meanwhile Sophie's Headway choir just revel in the opportunity to see their fellow choir members.
"We always do something silly," she says. "I ask everyone to wear a silly hat, wig or scarf – and they do. It really lightens the mood."
Personal experience
Many of the singers Sophie works with have health issues, caring roles or are facing financial hardship, so the lockdown scenario has been emotional for them – and Sophie herself.
"In some ways I've gone from being a choir leader, to a choir leader, counsellor and motivator," Sophie says.
"At first, I felt this huge pressure to deliver but I just had to be honest and say, 'I'm finding my way through all this just like you'."
Looking ahead
"I've also taught some one-to-one singing lessons online and enjoyed them. When we get to the 'new normal' I will carry on with them."
Professional takeaway
"By throwing myself into the situation I've learned a lot about myself and my students and picked up new tech skills," she says.
Gripes/pet hates
"People who arrive late for a session. We're in lockdown? What's their excuse?"
Sophie's tips
Dive in and be prepared to roll with it. There will be technical hitches, just keep going.
Be aware that it's more difficult to read body language online. "Like any holistic choir leader, I read the body language of my singers and I'm always looking at their feed and hands. But online I can't see anything from the chest down. I have to work hard to read the faces of my singers."
Don't be afraid to ask others for help and advice. You could also join the Facebook group started by Sophie, Choirs Online, where choir leaders share advice and experiences.
Before lockdown, Beccy worked as a vocal coach and ran three children's choirs and one choir for adults. She now leads two children's choirs and four adult choirs.
Pre-Coronavirus Beccy had taught the occasional one-to-one singing lesson online but had never experimented with the practicalities of running a virtual choir. When the lockdown came into place, she made a quick-fire decision to take her whole business online.
She did this by setting up a web-based membership platform that now provides the administrative backbone for her business. "My plan had been to do it in September but when the crisis happened, I just had to run with it," she says.
On the membership platform (created using Thinkific), members can download lyrics, sheet music, and backing and rehearsal tracks. She also posts a weekly children's activity sheet for her younger singers.
Sessions
Weekly adult choir sessions last 90 minutes. The first 30 minutes cover an aspect of vocal technique, before the group moves onto singing.
Beccy also puts backing tracks, along with recordings of her singing each part of a song (soprano, alto, etc), on the free music creation app Bandlab.
Choir members are encouraged to access these resources outside of lesson time as part of their practice regime. When they feel ready, singers record themselves singing their part and send it to Hurrell.
She mixes the takes together on GarageBand so members can listen to the whole choir singing together. "It's a great way for them to have a record of their hard work," she says. "People have really taken to it."
Beccy also runs two virtual children's choirs – junior and infants. (Her teenage choir is currently inactive as demand wasn't strong enough to take this online). She plans to get her young singers on Bandlab soon.
New choirs
As many choral societies in her local area are not meeting at all during the lockdown, Hurrell decided to fill the gap. She started three new virtual choirs covering traditional choral repertoire, MT and rock/pop music.
Membership of these new choirs is still relatively small – but increasingly steadily. To encourage growth, Hurrell offers existing choir members incentives for introducing new person to a choir.
Looking ahead
Some new choir members don't live near Beccy but are keen to continue with their virtual choir once lockdown is lifted.
"I'm going to explore the idea of keeping some of the online choirs going after this [lockdown] is all finished," she says.
Beccy's tips
Don't take it personally if some singers don't join you online choir or drop out. Everyone has a different attitude to technology.
If something isn't working, don't be afraid to be decisive and change direction.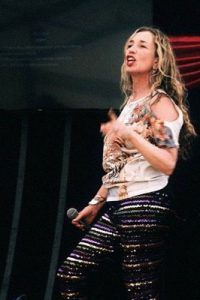 Juliet is an arranger, composer and vocal coach who leads Assemble, a professional, contemporary mixed voice choir, and Portobello Live Choir (PLC), an a cappella community choir.
"When the world changed, I asked myself: What can we do to stay creatively connected?", says Juliet.
The answer, she decided, was to move rehearsals for her community choir online and to launch an international online choir project. Like many people whose lives were turned upside down by the pandemic, Juliet had to adapt quickly to a changing world.
"There's something positive about working with technology as it forces you to think differently and try new things," she says.
Choir sessions
Juliet recognised the need to be flexible. She added more impro and rhythmic exercises to lessons and opted for less complicated repertoire.
"I was led by my singers," she says. "We're an a cappella choir and some of our repertoire can be quite challenging. They asked that we do simple three-part block stuff."
Juliet also created a cappella backing tracks for songs, so her singers could still hear themselves sing with others.
International project
Working with Naveen Arles (London International Gospel Choir), Juliet also embarked on an ambitious international project centred around a song she wrote herself, My Voice Lifts My Soul.
The project aims to get virtual choirs from around the world to record and share their own versions of My Voice Lifts My Soul. To kickstart the project, Assemble released their version of the song online on World Voice Day. For a step-by-step rundown on how to record your own virtual choir track and create a video, read this guide.
The finished product is proof that you don't need high tech kit to achieve results – most of Assemble's singers recorded the audio and video on their phones. Juliet mixed the track herself but confesses that her tech savvy hubby helped to create the video.
"With all of these things don't be afraid to ask for help," she says. "If you're struggling with one element, ask people you know who might be able to help or give you useful advice."
Resources to support choirs in putting together their own version of My Voice Lifts My Soul are available until 15 May. Check them out here.
Professional takeaway
"This crisis has forced us to use tech differently and that's not necessarily a bad thing," Juliet says. "I've been able to connect with people all around the world and that's a beautiful thing."
Juliet's tips
If you're working on a project, give yourself a timeline. "I had just two weeks to put together My Voice Lifts My Soul. A longer lead in time would have been nice, but a tight deadline focuses you."
Just do the best that you can. The feedback you receive from a virtual choir is different from when you're in the room with them so it can be hard for the person leading it.
Remember that a choir is a community and that sense of community is as important as the result.
Further reading
The University of Aberdeen's Kathleen Cronie shares her research on virtual choirs HERE.