Singing Teacher Training Weekend 2019
Saturday, August 10 @ 10:00

-

Sunday, August 11 @ 17:00

BST

£95 – £180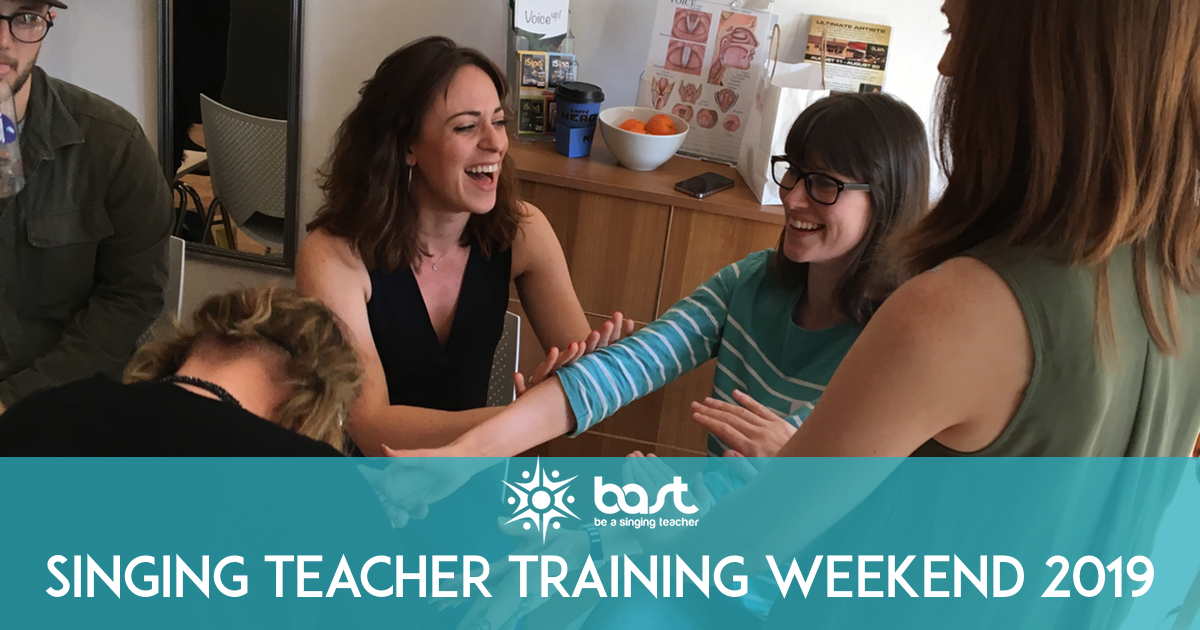 BAST Singing Teacher Training Weekend
When:
Saturday 10th August 10AM – 6PM
Sunday 11th August 10AM – 5.30PM
You can attend both days or just one day
Where:
Finchley Road Studios 485a Finchley Rd London NW3 6HS
How much?
2 days £180 
1 day   £95
BAST Members £160 & £80 – Log in to get the discount code. Apply code at check out. 
LIMITED PLACES BOOK EARLY
Who:
Singing teachers of all levels who are looking to take their teaching up a notch. This is a great opportunity to hang out with like-minded folk and geek out on voice!
Not suitable for total beginners, unless you've done the BAST course.
What:
You will be able to augment your current skills and knowledge, explore further teaching strategies, deepen your ability to assess the voice, fix technical issues and speed up your teaching results to impress your students. 
Teaching vocal style

Assessing vocal health and getting a voice back to vocal fitness post injury or illness

Effective lesson planning

Teaching clinics with guinea pig students

Strengthening the transition between the lower and upper registers

Extreme vocal qualities
When you register for the event, you will be asked to submit any particular topics of interest you have. We will do our best to create a curriculum that includes these topics.
---
Class Schedule (subject to change)
Saturday
10:00 Registration and Intros
10:30 Creating an effective lesson plan
12:00 Guest presenter: Nikki Rawlings from PhysioEd – How tension impacts the voice and what to do about it
13:30 Lunch (Bring your own. Lots of local delis, cafes and a Waitrose nearby)
14:30 Guest presenter: Linda Hutchinson from Lewisham Voice Clinic Singing Voice Rehabilitation
16:15 Teaching Clinic team teaching, Q&A, Troubleshooting
18:00 Finish
7pm Dinner – we'll find a local place to eat. Let us know if you'd like to join us when you sign up.
Sunday
10:00 Teaching Vocal Style in Contemporary Genres
11:30 Teaching Clinic
13:30 Lunch (Bring your own. Lots of local delis, cafes and a Waitrose nearby)
14:30 Guest Presenter: Nicole Gill. Teaching extreme vocal qualities
16:15 What do you hear? Listening clinic. Using a variety of examples we will analyse singing voices
17:30 Finish
---
What do people say about past events?
I thoroughly enjoyed the BAST Singing Teachers Retreat, the weekend's content was interesting, informative and all of the speakers were top-notch! I came away feeling like I had gained enormous insight into vocal health and was excited to go home and start putting things into practice. Ursula Connolly, Ireland
It was an excellent, informative and enjoyable weekend – thank you! Emily Jackson, UK
Others should consider attending this event to get access to experienced, expert advice that will have a real impact on their work. They will also be able to make contacts with other voice teachers across the country/world, which is always a good thing. Russell, Scotland
Having just returned from the Singing Teachers' Retreat, I am feeling so inspired, exhilarated and excited to pass on all my newfound knowledge to my students! The weekend completely exceeded my expectations and I've left feeling so much more knowledgable and confident in my approaches, I can't wait for the next one! Mersey Wylie UK
I cannot recommend BAST and the classes they provide more highly. They are the perfect balance of information, tools, practicality, science and FUN! You realise when you're there that there is no where better for education on the voice and that the theory is correct…because it works Hannah Meridith, UK
It will take me ages to go through all the information I was given. The quality of the lectures and talks from guest speakers was top drawer. It was also great to meet up with all the other teachers. Well done BAST. Eddy Hailwood, UK
It was great to meet the BAST team finally in the flesh and to learn from their vast wealth of experience and knowledge. It was also wonderful to meet up with other vocal coaches from all over the world and put names to faces, make new friends and contacts. Judy Gosler, UK
Related Events