Focus On: The Body and the Singer
Monday,27/06/2022
£120.00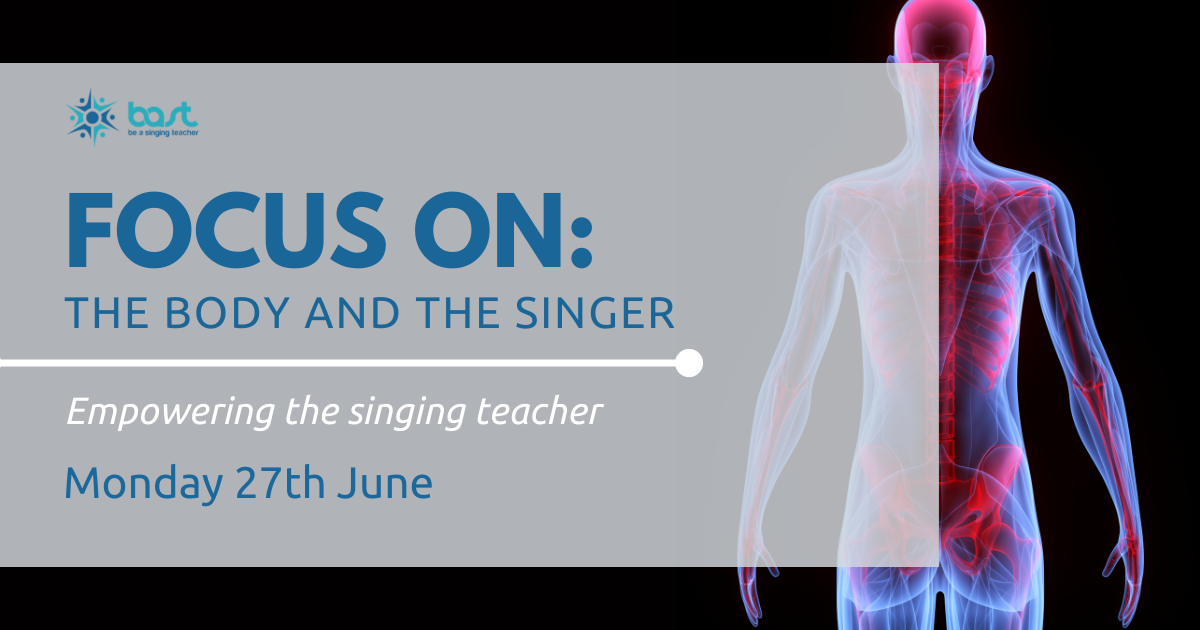 Take a deep dive into the wellness of the singer.
We brought together five incredible speakers to deliver theoretical sessions and practical exercises to give you a better understanding of and answer your questions regarding this complex subject matter.
Get the ticket for early access to the replay and explore practical strategies and tools that you can incorporate in your teaching and  how you can help your students develop and improve.

Join Rosie to delve into how simple yoga techniques can support singers in the studio. This session will look at the parallels between yoga and singing, exploring the benefits and connections between the two, the outcome being embodied voicework. We will explore some yoga postures and techniques that may help singers with common issues such as breath support, alignment, nerves or tension. The session will give you some tools and new approaches to your own singing practice or work with your students, considering the voice as a whole instrument. There will also be a practical element where we try some of these postures and techniques, so hopefully, you will leave feeling released and ready for the rest of the day!
About Rosie Secker
Rosie trained with the vocal department at The Royal Birmingham Conservatoire, graduating with a First Class BMus (Hons). She went on to pursue a Master of Arts at Mountview Academy of Theatre Arts and since graduating has led a successful portfolio career as a singing teacher, holistic voice teacher and performer.
As a singing teacher, Rosie has worked in a variety of contexts with different colleges, ensembles, age groups and abilities. She currently teaches at Bird College (Conservatoire of Dance & Musical Theatre) on the Degree and Diploma courses, and teaches singing at Lewes Old Grammar School, also running three choirs. Rosie has completed Estill Levels 1&2, is a Certified Vocal Health First Aider and is hoping to become a Vocal Rehabilitation Professional. Rosie is also a Certified 500hr Yoga Teacher, Certified Vocal Yoga Teacher and runs her own Vox Yoga workshops for organisations and individuals.
Rosie works with singers to find their own unique voice, and sing with ease and confidence. Vox Yoga is a holistic approach to voice training, considering the voice as a whole instrument. Exploring the connection between body, breath, mind and voice, allows a singer to embody their performance and sing in a healthy and expressive way.
Website: rosiesecker.co.uk
Instagram: @rosieseckervoice

With so much of modern life negatively affecting our digestive system, Stephanie will explain how the latest research shows a healthy gut can improve everything from immunity, energy production, stress tolerance, mental health status, sleep, and even how your genes work. This talk will also include practical guidance on improving the gut microbiome, the trillions of friendly gut bugs that help support your vagal tone and gut-brain communication.
About Stephanie Moore
Stephanie is a self-employed natural health therapist, clinical nutritionist, author and health coach. With a degree in nutritional medicine and a Masters degree in counselling and psychotherapy, plus a long history as a multi-disciplinary physical therapist, she combines all 3 skill sets to help people with many kinds of health issues, both physical and psychological.
Stephanie has worked in the natural health field for over 30 years offering a comprehensive assessment of my patients' health issues to then provide detailed, personalised health programmes addressing the individual's health concerns.
For 9 years Stephanie was head of nutrition at Grayshott Medical Spa and clinical lead for the 7-day digestive health regime that she co-developed in 2012. Her gut health protocol is the inspiration behind GutGastronomy, a cookbook based on her gut healing philosophy. Since the closing of Grayshott Medical Spa in November 2020, Stephanie has relocated the health programme to Goodwood, where it is now run as a 5 day, fully immersive experience at the Goodwood hotel and spa. Stephanie also holds nutritional therapy clinics in Surrey and Online.
Stephanie is often featured in the media as a health expert; she published her first, best-selling book in 2017 called 'Why Eating Less & Exercising More Makes You Fat!', which explains why conventional weight loss advice fails and what to do instead to achieve permanent health and weight loss goals. She has also co-authored a new book on Super Foods with doctor of biochemistry and health campaigner, Dr James DiNicolantonio, to be published in 2022 and is now working on a new book, 'Eat Your Brain Happy' following her recent training in Nutritional Neuroscience, focusing on the critical role of food, sleep, exercise and other factors known to directly influence the health of the brain.
Website: health-in-hand.co.uk
Instagram: @healthinhanduk

Join Tracy to learn how hypermobility can affect voice function and the ability to perform in people with hypermobile spectrum disorders. The session will explain how hypermobile joints and lax ligaments might cause problems using the voice, and how associated conditions can affect voice function and the ability to use the voice for speaking or performing. Learn more about the physiological and multisystemic symptoms of hypermobility, and what can be done to support singers and voice users with hypermobile conditions, including those diagnosed with Hypermobility Spectrum Disorder, hypermobile-Ehlers Danlos Syndrome, and Down Syndrome.
By the end of this session, you will:
Be familiar with common physical and systemic manifestations of hypermobility spectrum disorders(HSD)
Know how hypermobility disorders can affect vocal production and singing abilities
Identify ways to support or manage voice production in singers with HSD
About Tracy Jeffery
Tracy Jeffery currently works as a Senior Lecturer in Special Educational Needs and Disabilities, at Bishop Grosseteste University, Lincoln. Before teaching in HE, she had used her skills as an amateur musician to work with young adults and children who had a combination of speech and language difficulties and learning difficulties. Whilst studying for a Masters in Speech, Language and Communication Impairment, she noticed how motivated to sing many young people were, even if they could not, or did not, speak. This sparked her interest in the potential to use music to support voice and speech, and initiated a research project that examined how a series of singing lessons affected speech and voice in some of the young people she worked with. To her surprise, just 6 weeks of singing activities were enough to make a clear change to the voice quality in her participants who also had Down Syndrome. A few years later, she began a PhD that examined the potential of music to support speech in people with Down Syndrome. Part of this involved examination of voice production in speech tasks and singing tasks, and analysis of the different factors that supported or hindered efficient voice production.
Tracy's research and teaching interests centre on the potential of music to support learning, communication and wellbeing. She tried hard to put her beliefs into practice: in more sociable times, she is active in her local Community Choir, Lincoln's Poacher Morris, and Lincoln's African-styled drumming group.
Paper: 'I Have Had to Stop Singing Because I Can't Take the Pain'

Sense and Sense-Ability: Developing Greater Interoception through Uniting our Thinking, Feeling and Sensing in Action.
One of the most crucial parts of optimal physical functioning is learning to sense one's self more fully and accurately when doing anything. Having the ability to think in sensations allows us to imagine new possibilities and find new ways of doing things that are more comfortable, functional and successful. As Robert says, "we must sense before making sense," but simply sensing, in its own right, not only brings greater awareness and choice to any situation but primes the system to be in a state of continuous improvement.
About Robert Sussuma
Robert Sussuma, originally from New York City, is an explorer, a life-long learner and a connoisseur of connections: movement, speaking and singing, voice science, emotions, music, motor learning, neurology-in-action, and deep personal development – to name a few. His formal education is in vocal performance (Bachelors of Music in Voice Performance and Masters of Music in Early Music Voice Performance). However, early in that training, he was introduced to the Feldenkrais® Method of Somatic Education and has seen the two fields as inseparable ever since. He is now a Guild Certified Feldenkrais® Practitioner.
Robert has taught Private Voice Lessons and Voice and Movement Classes at Naropa University (Boulder, Colorado), Haverford College (Philadelphia, Pennsylvania) and PACE University (New York, New York), and has maintained an active private studio for over 15 years, most recently working with with well-known and successful actors and singers in NYC. Robert has also been a guest teacher at Harvard University, the University of Michigan and Barcelona University.
Teaching internationally, now, Robert leads intriguing and transformative workshops for singers and singing teachers regularly throughout Spain and France and is exited to bring his unique brand of experiential vocal learning around the world.
Website: robertsussuma.com
Instagram: @robert_sussuma

In this session Jennie explores the anatomical relationships throughout the whole body that support optimal breath and vocal mechanics – and explains how to integrate these concepts into dynamic vocalizing. This session will give you a clearer understanding of the myofascial system and kinetic chain that connect foot placement and whole body alignment to voice production. Learn also about optimal breath mechanics and the dual action of muscles for breath and postural control.
About Jennie Morton
After a long performing career as a ballet dancer, West End musical theatre performer, and lead singer of a London big band, Jennie is now a Clinical Osteopath specialising in Performing Arts Medicine. She provides treatment for musculoskeletal, neuro-biological, and psycho-physiological issues from her base in Los Angeles. She also works as a performance coach for singers and actors, focusing on anatomical efficiency, the embodiment of artistry, movement education, and rehabilitation from vocal injury. Jennie co-created the MSc in Performing Arts Medicine at University College, London, and lectures internationally to artists, arts educators, and healthcare professionals on the subject of performance-related injuries. She is the author of three books: The Authentic Performer: Wearing A Mask And The Effect On Health; The Embodied Dancer: A Guide To Optimal Performance; and Dancing Longer, Dancing Stronger. Her website jenniemorton.com contains many of her published articles and educational resources, as well as links to her online courses on a range of health topics.
Follow us on Instagram @basttraining for the latest updates!