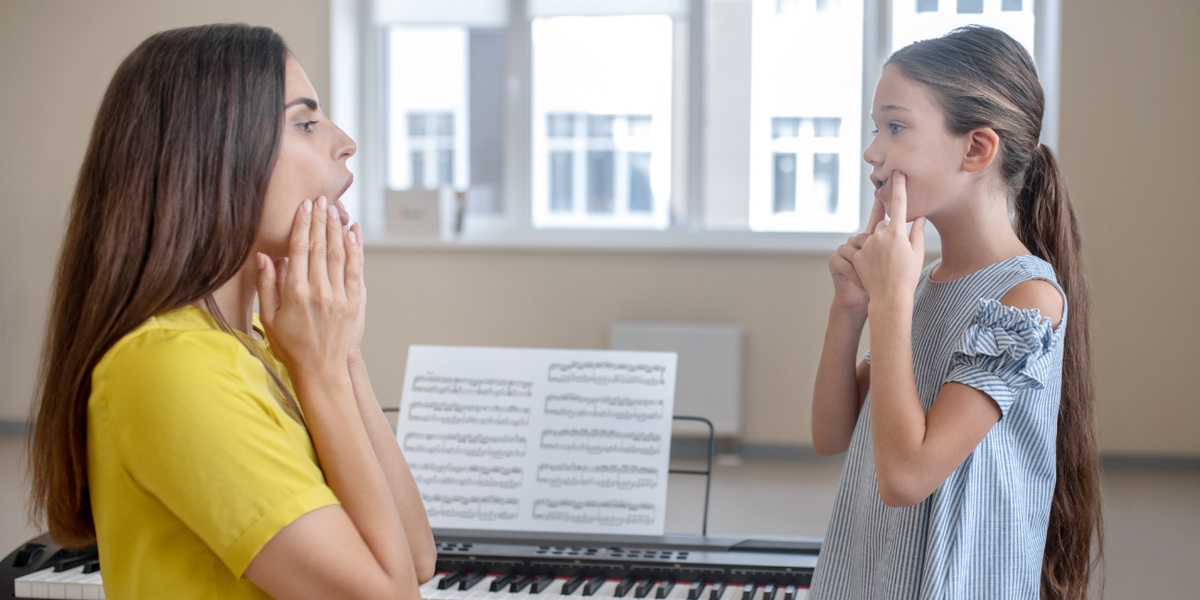 We are now an approved RSL Awards VQ Centre. This means we deliver a Level 5 Qualification. Go us!
If you are interested in gaining a recognised teaching qualification then make sure you pop your details into our special Qualifications Update mailing list. Or if this is more suited to your needs then download the brochure to find out more about the course and qualification. if you have any further questions then book a free call with us to further discuss your needs and options.
…continue reading to find out about our flagship 20 Hour course:
The BAST 20-Hour course will introduce you to the fundamentals of being a great singing teacher followed by 12 months free education and support through the BAST Membership.
On this course you will learn everything we wished we'd known when we started out! Our goal is to ensure you feel confident and equipped to get started on your singing teacher journey.
Basic anatomy and physiology of the larynx and respiratory system
Teaching and learning styles, goals and methods
Teaching tools – sounds, scales and instruction
Assessment – body, and voice (spoken and sung)
Acquiring a history
Voice classifications
Vocal registers
The transition between vocal registers
Diagnosing the voice (spoken and sung)
Vowels and consonants
Intro to formants and harmonics
Vowel tuning
Vocal exercises – The what, how, when
Application into song
Repertoire
Learning styles and teaching strategies
Considerations in teaching children, teens, adults and the elderly
Motivating students and your self
Vocal pathology
Vocal health advice
Setting up your studio
Teaching online
Good business practices
How to market your service
Told you – this course is packed with goodies!
"The course demystified the process of teaching and gave me a clear idea of what I needed to know and what I should expect. I found the introduction to vocal anatomy so useful and appreciated being encouraged to teach as we learn." Jamila Ford USA
LENGTH
20 hours in total either over 10 weeks or as an intensive.
LEARNING OBJECTIVES
To get the student teacher to a place where they feel comfortable and equipped to start teaching one-to-one singing lessons.
DELIVERY METHODS
Lectures, interactive practical exercises, Q&A, discussion. The class is recorded and the presentations, audio, and weekly resources will be made available for download by the student.
"I am so happy I decided to to the BAST course! Having all this knowledge makes me feel so empowered and I can't wait to use all of it for my own singing career and to help my future students. I would recommend this course to anyone with an interest in vocal physiology and singing!" Caroline Dewson Norway
PRACTICAL ACTIVITIES
Putting it all into practice. Most weeks there will be a practical application segment in the lesson applying the theory learned that day. During the course the teacher and students will work on each other. If the BAST Trainer deems it necessary or a 'guinea pig' student may be brought in for practice and demonstration purposes.
HOMEWORK
We encourage self-study. You are an adult and we hope that you will put in the work required to get good at this job. There is only so much we can do in 2 hours a week, so the rest is up to you. Each week has an accompanying Pop Quiz and we have tons of suggested self-study activities and reading to recommend between classes.
Resources and references are available at the end of every class presentation.
EVALUATION
There is no formal assessment made on this course (yet…). Your BAST Trainer will be making an ongoing evaluation and will guide and advise individuals as to the areas they need further work on as well as where they may be able to gain further skills or knowledge if appropriate.
ON COMPLETION
You will receive:
an attractive Certificate of Attendance signed by your BAST Trainer (minimum 90% attendance)
12 months Free BAST Membership where you can meet previous BAST grads, attend a monthly Troubleshooting Clinic with a BAST Trainer, gain free access to past and future regular guest expert educational webinars & training videos, connect with other singing teachers, get discounts off BAST and partner events, products and resources, 21 issues of iSingmag, a 14 lesson Vocal Warm Up Course and access to all the trainers for advice and support PLUS more.
Access to the BAST Singing Teacher's Members Community Group via Slack
First notification of future BAST discounts on educational events and offers 
"BAST not only gave me the confidence that I could provide informed, fun and successful singing lessons but infused me with a passion to delve deeper into the vocal chasm." Alexa Terry UK
ELIGIBILITY
We highly recommend you have the minimum of the following:
1. Three-five years of performance experience and/or a qualification in music/performance/singing from a recognised university or college.
2. Basic keyboard skills are preferred but not essential to begin the course. As a requirement to get the course certificate you need to pass (60%) the Keyboard & Scales Evaluation Test.  We believe that to teach effectively you need, at the very least, be able to play scales, arpeggios and root position chords. It is therefore highly recommended non-players get piano lessons.
3. Music theory preferred but not essential to begin the course. All the note names including #'s and ♭'s , triad and seventh chords, commonly used time signatures (2/2, 4/4, 3/4, 12/8), note and rest values plus their dotted values, triplet. All Major scales and triads. Note values Semi Quaver (Sixteenth Note) Quaver (Eight Note), Crotchet (Quarter Note), Minim (Half Note) and Semi Breve (Whole Note), dotted and their rests.
Test yourself
There is a basic online course we have created for those who need development in this area. To find out if you already know what's needed and/or to do the BAST Keyboard & Scales course JOIN or LOGIN to the Free BAST Membership and go to the Pop Quizzes and Course Section.